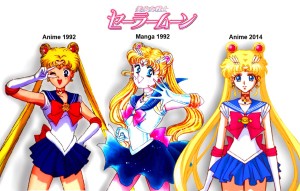 Sailor moon Crystal is here, we have all patiently waited for Naoko's original vision and now finally, Act 1 has been released. Act 1 of Sailor Moon Crystal introduces Usagi in a similar fashion to the Manga and Act 2 promises to introduce Ami-chan in the same manner.  I'm sure that we will find the same pacing as the Manga through out the remaining Acts.
I am huge Manga fan, but I also love the anime for its charm and the depth of character development (someting that Crystal may not have time for). In any case I will not be reviewing Sailor Moon Crystal, only time will tell if Crystal can live up to the legend. I trust Naoko, and I want to see Sailor Moon the way she intended to present it. I will say I am so happy with what I have just seen, it has reduced me to a literal puddle of nostalgia. No fandom can "pick nits"  like ours, there will be time for that later,  my advise to you is, stop and smell the roses.
You can watch Sailor Moon Crystal on…
HULU,  (recommended for the U.S.) FREE at least for now, you do NOT need a HULU plus account!
or Crunchy roll
or Nico Nico
Everlasting Moonlight!
Shin     :3