Sailor Moon Crystal Cards are here! It's update time again here at BishoujoSenshiSailorMoon.com. I just picked up a huge lot of 1,600 cards so I have an amazing selection of new cards of all kinds; Sailor Moon Pull Pack cards, Graffiti cards, Carddass cards, Hero cards and Banpresto cards. Since I got so many I also have many new sets available. Of course there are also more rare cards available if that's what you are looking for, like Sailor Moon Nissui cards, Morinaga cards, Marumiya cards, Charamide cards, Bromide cards and Idol/lami cards.
You will notice the newest cards are highlighted in blue so my most frequent visitors can spot them without having to go through the entire list. There are literally thousands of cards to choose from here. But now… what you have been waiting for…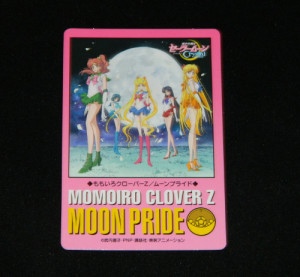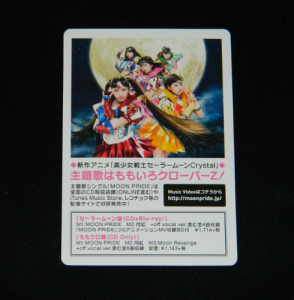 Yes this is the Official Sailor Moon Crystal, Momoiro Clover Z, Moon Pride promo card. It is the very first Sailor Moon Crystal card issued. It was a "hand out only"  Promo card, available for a limited time at just a few locations in Japan. It's in mint condition. Don't miss it! They will be impossible to get in just a few short weeks. Reserve yours now, because it's first come, first served and the supply is limited.
Reminiscent of the Sailor Moon Graffiti cards and exactly the same size. It's very exciting to have the first Sailor Moon Crystal cards starting to show up and I'm looking forward to more. You know I will be trying my best to get the new Sailor Moon Crystal cards as soon as possible.
Shin  :3